Blog
This is my painting on the first morning of the 2012 Callaway Gardens Plein Air Competition in Pine Mountain, GA. The week started with a great sunrise and I snuck into the back side of the Mountain View golf course through a service road that I found. This was an incredible view with wonderful reflections in the water. The turkeys were gobbling all around me and a hen even made her way up the fairway which is off to the left in this painting. It was a great morning indeed to just loose yourself in your art.
© 2012 Robin Roberts
Mountain View 15 - 12" x 16" oil
For purchase information, click on the image.
---
This is one of the paintings that I did while at Callaway Gardens, in Pine Mountain GA, for the plein air competition. I was getting a little more comfortable by the time I painted this one on Wednesday evening. It was cloudy most of the week but I actually got a little bit of good light that night too.
Now that I got it home I was able to get a better shot of it. Eventually, I'll get some of the others up here too. Once home I realized that a few needed some tweaking. I need to learn to get this stuff right the first time around.
The Callaway's treat the artists very well. Thanks to the whole crew for a great week despite the weather.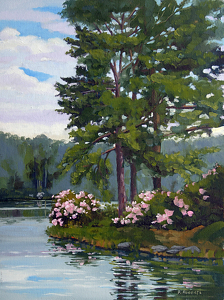 © 2012 Robin Roberts
The Point. 16" x 12" oil on linen panel.
For purchase information, click on the image.

---